Upcoming Events:
2015 Columbia Global Energy Summit
1:15pm April 28, 2015


The Center on Global Energy Policy is delighted to invite you to the 2015 Columbia Global Energy Summit. Structured as a half-day forum, the Summit will include keynote remarks, interviews and plenary conversations with senior energy sector leaders focused on key issues and questions at the intersection of energy policy, financial markets, the environment and geopolitics. A formal agenda will be forthcoming. Distinguished speakers so far confirmed include:
Gina McCarthy, Administrator, US Environmental Protection Agency;
Governor John Hickenlooper, State of Colorado;
Jason Furman, Chairman, Council of Economic Advisers, White House;
Sheikh Nawaf Saud Nasir Al-Sabah, Chief Executive Officer, Kuwait Foreign Petroleum Exploration Company;
Mario Beauregard, Chief Financial Officer, PEMEX
Jason Bordoff, Founding Director, Center on Global Energy Policy;
David Foley, Chief Executive Officer, Blackstone Energy Partners;
Peter Kagan, Managing Director for Energy, Warburg Pincus;
Dr. Edward L. Morse, Managing Director, Global Head of Commodities Research, Citi;
Shigeru Muraki, Member of the Board and Executive Advisor, Tokyo Gas;
David Sandalow, Inaugural Fellow, Center on Global Energy Policy;
Zach Schreiber, Chairman and Chief Investment Officer, PointState Capital;
Charif Souki, Chairman and Chief Executive Officer, Cheniere Energy;
Mona Sutphen, Partner, Macro Advisory Partners; and
Daniel Yergin, Vice Chairman, IHS.
Registration is required for in-person attendance. It will also be livestreamed at: http://energypolicy.columbia.edu/watch
This event is open to press. Media must register by contacting Molly Taft (molly.taft@berlinrosen.com)
For more information please contact: energypolicy@columbia.edu
EIA's Annual Energy Outlook 2015
6:00pm May 4, 2015


Please join the Center on Global Energy Policy for a presentation and discussion with Adam Sieminski, Administrator of the U.S. Energy Information Administration, of EIA's Annual Energy Outlook (AEO) 2015. The AEO 2015 presents long-term projections of U.S. energy supply, demand, and prices through 2040. EIA's Reference case, which assumes current laws and regulations remain unchanged, provides the basis for examination and discussion of alternative price, economic, and resource scenarios – and often serves as a starting point for analysis of potential changes in energy policies.
After the presentation by Administrator Sieminski, Center Founding Director Jason Bordoff will moderate a discussion.
Registration is required for in-person attendance. This event is open to press. It will also be livestreamed at: energypolicy.columbia.edu/watch (no registration is required to view the livestream).
A podcast of this event (in addition to other past Center events) will be available ~3 to 5 days after the date of the event through iTunes or via our website.
For more information contact: energypolicy@columbia.edu
Green Chemistry Applied in Industry
May 13-15, 2015


About the 2015 Symposium
The third annual event, now a symposium, organized by the Green Chemistry Initiative aims to connect graduate students with industrial leaders to discuss future goals pertaining to sustainability and greener syntheses. This symposium was designed by graduate students for graduate students (though all are welcome to attend!) and highlights the methods various industries employ to make their chemistry efficient and more environmentally friendly. Come and join the discussion for two full days of lectures and discover the finer details of Green Chemistry which brought these innovations to the world through the decades of research.
Highlights of this Year's Symposium Include:
– An excellent chance to make connections with current industrial leaders for future job opportunities
– A poster session and networking event to obtain positive feedback on your own pursuit of green chemistry
– A panel discussion concerning challenges in the industrialization of green chemistry
– An optional crash course in green chemistry fundamentals, offered on Wednesday, May 13th for those who would like a refresher on the basics
Past Events:
A Conversation with the Co-Chairs of the UN Climate Negotiations
4:30pm April 22, 2015


Please join the Center on Global Energy Policy for a discussion with Ahmed Djoghlaf and Dan Reifsnyder, Co-Chairs of the ongoing negotiations in the United Nations Framework Convention on Climate Change that will culminate in Paris in December of this year. Mr. Djoghlaf and Mr. Reifsnyder will discuss the current state of play in the negotiations, the key issues that have been identified by countries and the process of guiding the negotiations toward a conclusion in Paris.
After their remarks, CGEP Program Director for International Climate Policy Keith Beneswill moderate a discussion featuring the co-chairs and Michael Gerrard, Andrew Sabin Professor of Professional Practice at Columbia Law School and Director of the Sabin Center for Climate Change Law.
Registration is required for in-person attendance. Please note that this event will be off-the-record.
For more information contact: energypolicy@columbia.edu
Next Generation Nuclear Power: The Solution to Climate Change?
7:15pm April 8, 2015


Does nuclear energy have any role in stopping climate change? Kicking off the first of three days highlighting nuclear energy at Columbia University,CUCSD presents a screening of PANDORA'S PROMISE followed by a panel discussion with experts. Introduced by Nobuo Tanaka, President of Sasakawa Peace Foundation and former Executive Director of the IEA, a keynote by Bill Nye (the science guy), who will also join our panel, Academy-Award®-nominated director Robert Stone, Gernot Wagner from Environmental Defense Fund, and moderated by The New York Times' Andrew Revkin. The atomic bomb and meltdowns like Fukushima have made nuclear power synonymous with global disaster. But what if we've got nuclear power wrong? PANDORA'S PROMISE asks whether the one technology we fear most could save our planet from a climate catastrophe.
Register now as seats are limited: columbiasd.org/nye
Climate Shock: A Conversation with Gernot Wagner
6:00pm March 30, 2015


Please join the Center on Global Energy Policy for a presentation and discussion with Gernot Wagner, lead senior economist at Environmental Defense Fund, adjunct associate professor at Columbia SIPA, and research associate at Harvard Kennedy School. Mr. Wagner will discuss Climate Shock, the new book he co-authored with Martin L. Weitzman which explores the known and unknown risks of a hotter planet and the economic forces that will shape future climate change policies. Center Fellow Joe Aldywill moderate a discussion following Mr. Wagner's formal remarks.
RSVP here.
People's Climate March
11:00am September 21, 2014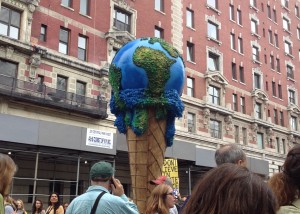 This Sunday at 11 am, there will be a massive march for climate action gathering on Central Park West north of Columbus Circle and walking down to 33rd street. It is expected to be one of the largest marches in U.S. history, so come to express your support for progressive action at the UN Climate Summit taking place in New York this week. The march starts at 11:30 but because hundreds of thousands people will be there, they recommend lining up at 11:00.
If you can't make it tomorrow, there are many other events taking place in New York all week. Find out more at http://peoplesclimate.org/march/
Greening Your Lab Webinar
12:00pm September 16, 2014


This Tuesday, CLEEN is tuning in to a "Greening Your Lab Webinar" hosted by Greener U and Harvard. The webinar features representatives from Harvard University and Worcester Polytechnic Institute who will be discussing various ways in which they have worked towards reducing the energy impact of labs on campus.
GreenerU recognizes that there are many barriers to achieving sustainability in labs. In order to create a lasting impact, it is important for colleges and universities to tackle these issues with an integrated plan that addresses both technological and behavioral change. Our speakers will discuss different ways to achieve this goal.
By joining their webinar, you will learn about different techniques used by GreenerU at WPI and methods used by Harvard University to address lab sustainability through:
– Managing laboratory ventilation and comfort
– Lab equipment operation and configuration
– Engaging lab users to maximize results
– Managing implementation in active lab buildings
We hope you can join us in joining their webinar!
Register here.